Landice L10 Club
The L10 is the perfect complement to any high-use club setting. It comes with a 5 horsepower AC motor and top speed of 15.5 mph with the optional 220 VAC model. The AC motor is known for its durability and ruggedness due to its brushless design and contributes to its long life expectancy. In addition, it has a 22 x 60 inch running area, contact heart-rate, 0% to 15% incline, an easy-to-use console with flexible programs, a 500-lbs. user capacity.

The L10 Treadmill Highlights
The L10 treadmill features a five-horsepower AC drive motor ranging in speed from 0.5 to 15.5 mph for the optional 220 VAC and 0.5 to 12.5 mph for the standard 110 VAC. Its 1" thick, reversible deck is capable of reaching a 15% elevation.
Landice Control Center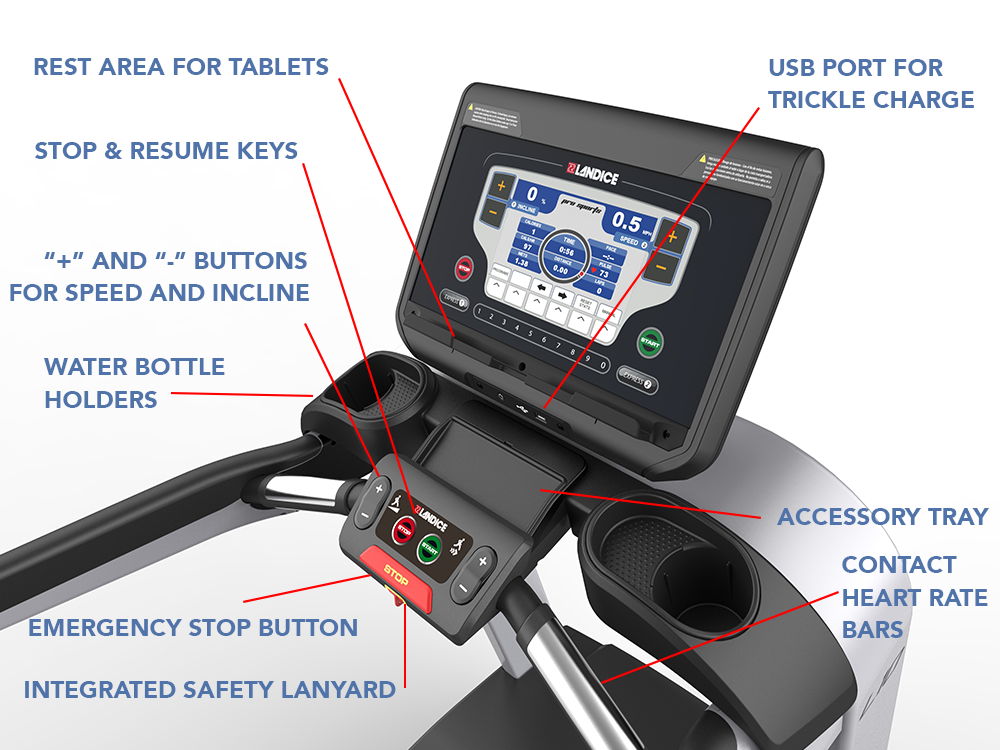 The Landice Control Center comes standard on the L10 Treadmill. Included is an integrated reading/accessory rack and a convenient water bottle holder. Check out our additional items that will enhance your workout in the console image.
VFX Shock Absorption System
Landice is the industry leader in treadmill shock absorption. Our VFX Shock Absorption System is based on medical research to provide optimum comfort, smoothness and reliability while reducing the risk of injury. Five-times softer than grass, it is designed for runners and walkers seeking significant impact reduction.\
5 HP AC drive motor
3 1/2" diameter, 22-pound steel rollers
1-inch thick reversible deck
83" x 34" X 64" footprint
Certifications: UL, CAN, CE (TUV)
Voltage: 110 VAC, 50/60 Hz, 15A with dedicated line (standard); 220 VAC, 50/60 Hz, 10A with dedicated line (optional)
Steel frame
0.5 to 15 mph speed range (220V)
0.5 to 12 mph speed range (110V)
15% grade electric elevation
22" W x 60" running area
500 pound user weight capacity
Click here for more information