Dumbbells
Rubber Hex Head

These safe, attractive dumbbells have contoured, knurled chrome handles and durable rubber-covered heads for increased safety and comfort. The heads are torque-threaded and permanently affixed to a thick 35 mm solid steel shaft improving the strength of the head/handle joint. The knurled chrome handles are ergonomically contoured to fit comfortably in the users' palm.


Power Dumbbells


Commercial quality round dumb bells with premium dual tone design One piece solid cast design offers accurate weight and perfect balance to prevent injury to arms when working out. High quality durable and odorless rubber casing which is resistant to cracking, fading and also prevents damage to flooring and equipments. Steel handle with knurling for better grip to ensure safer handling. Dual color end cap with imprinted fadeless, clear and easy to weight markings Available from 5lbs to 100 lbs at 5 lb increments.
York Pro Set Dumbbells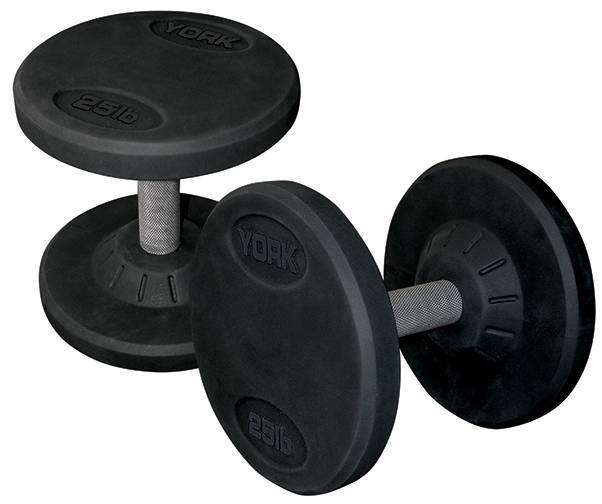 A snug-grip improves balance and reduces hand / forearm fatigue Perhaps one of the most ergonomically correct umbbells on the market, YORK's Pro Style Dumbbell features a shortened, fully knurled, 33MM solid steel handle resulting in less hand travel and optimum control. Soft, non-metallic shoulders at either end of the bar cradle. The dumbbell heads are comprised of solid steel inserts fully encased in virgin rubber.


Ivanko Uerthane Dumbbells


Ivanko USA made Urethane dumbbells are manufactured with commercial grade urethane that is chemically fused to a solid steel core and will not split, crack or peel. No Welds. No Allen Bolts. The Thickest Urethane in the Industry. Stainless steel or high-carbon, hard-chromed handles. 5lbs, 7.5,12.5, 17.5, 22.5, 27.5, 32.5, 37.5,40 to 150lbs.


Water Dumbbells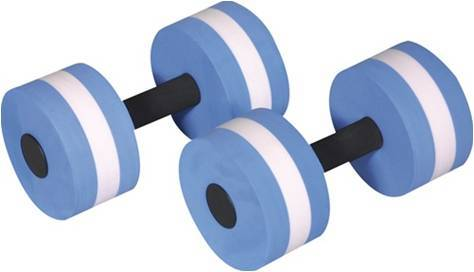 Soft foam covered handles reduces white knuckle effect. Won't chip or absorb water. 6" deluxe resistance dumbbells made of closed cell EVA foam. Closed cell EVA buoys are non-abrasive to skin and fabrics. Sold in pairs.
Chrome Dumbbells(Beauty Bells)


These highly reflective and attractive dumbells make a BIG visual impact. The knurled chrome handles are rgonomically contoured to fit comfortably in the user's palm.




Vinyl Fitness Bells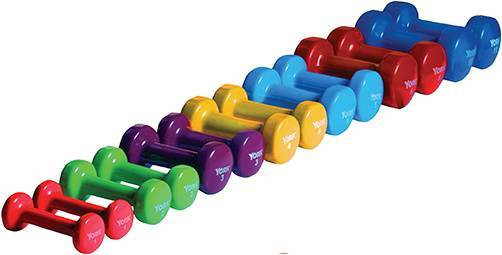 The York iron dumbells are available with a thick, durable, easy-to-clean vinyl or neoprene coating. These colorful dumbells are excellent for group classes offered in clubs.