Octane Airdyne X Air Bike
With a long heritage of innovation and performance, the AirdyneX bike is a classic workhorse that has delivered superior cardio workouts for decades, making it one of the most popular traditional fitness machines in history. And now, this breakthrough fan technology has been precisely refined for greater challenge and customized intensity for today's exercisers. This ultra-durable gym mainstay withstands the toughest sweat sessions on cardio floors, in small group training, in functional training workouts and at specialty fitness studios.
26-blade performance fan
Performance drive system
Single-stage belt for instant activation
Smooth motion
HIIT training
Calibration technology
Essential workout stats and tachometer
Moisture-repellent, double-coated steel body construction
Biomechanically correct positioning
Fore/aft seat and height adjustments
Oversized, cushioned seat
Anti-slip, triple-sided foot pegs
Cordless operation
Efficient Belt Drive

The beauty of the AirdyneX bike also lies in its responsive belt drive, which responds instantly to the users power so that they're as efficient as possible and don't lose momentum.

Other bikes with chain drives use two-power transfer systems, so your energy must transfer from one chain to the next, and power could be lost in this process. Plus, with a smooth belt drive, users are not subject to the constant loud sounds or jerky movement of the chains – for a quieter, more pleasant workout experience.
AirdyneX Fan v. A Leading Competitor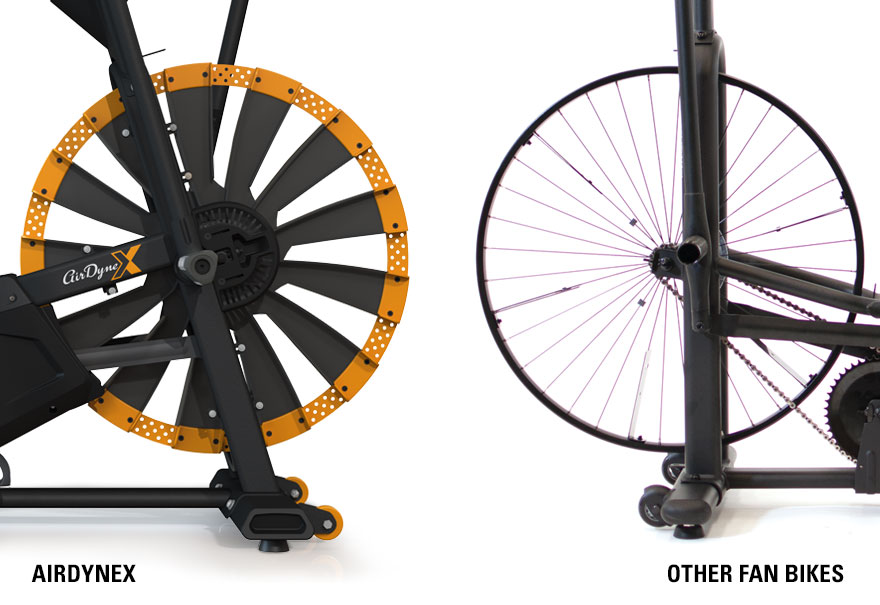 When it comes to performance the AirdyneX bike beats the competition. That's because other bikes use small fans that cannot optimize performance. The AirdyneX bike is equipped with a top-of-the-line 26-blade performance fan that helps ensure that the power you generate creates valuable resistance, so you get the ultimate in efficient, effective workouts.

And thanks to an exclusive inertia drive, you enjoy smooth motion and safe, quick transitions from sprints to stops.
Upper-Body Workout

Total-body exercise offers greater caloric burn and superior conditioning. With the cushioned Multi-Grip handlebars, users can choose from horizontal and vertical placement options to target different muscles and enhance comfort.

Plus, users can periodically focus exclusively on the upper body by placing their feet on the stationary anti-slip foot pegs with triple-sided grip pads for traction.
Console Technology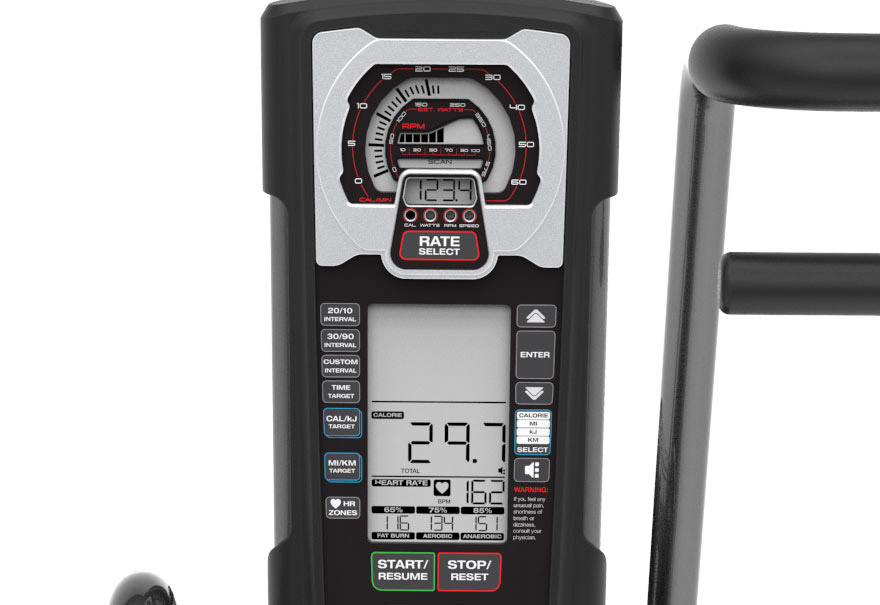 Simple and intuitive to navigate, the digital display delivers essential stats at users fingertips. Get into a program at the push of a button; track performance in heart rate, RPM, distance, watts and calories.

Plus, the tachometer visually signals how hard the user is exercising and provides the average calorie burn per minute. Users will indulge in the compulsion to push harder to bury the needle! This handy, motivational tool keeps users giving it all they've got!
Click here for more information